Hey everyone! Welcome to the weekly Sket Dance, and boy, the week's going by too fast. I still look forward to Sket Dance every week among other new summer anime shows. For me, it fills the gap of Gintama with the help of Binbogami ga! anime series.
Plot
Tsubaki's hobby is making original T-shirt designs, but when his fellow Student Council members proclaim them "lame", he goes to his twin brother Bossun for a shot of creative advice. Then, Bossun's love for a robot anime leads him to an otaku meet-up. Will he be able to fit in?
Via Crunchyroll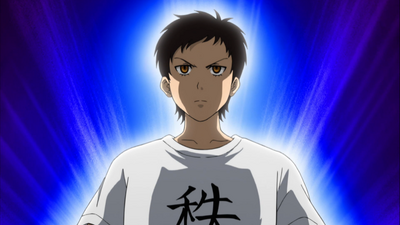 Verdict
Beware of spoilers!
Good
This episode shows another quirky hobby of Sasuke and it reveals how much different he is from Bossun who is very artistic. Though, it got me thinking about the theory of left and right brain. I don't believe in that over which side governs artistic, logic, and other stuff. The reason that I thought about this is because Bossun and Sasuke's Kanji means right and left, respectively.
Sorry for being off-tangent, I loved how Himeko gets so excited that Bossun and Tsubaki are getting along. Some fans have a dirty mind about what was Hime doing as she eavesdrop on Sasuke and Bossun from the outside. It adds to the humor.
Finally, the episode did a good job on merging two separate manga chapters by revealing what common traits the two twin brothers shared.
Bad
There's not much bad stuff. Though, the halves of the episodes are not equal because we all have different preferences. I find the first half with Sasuke more better. What was your favorite story in this episode?
Overall, the episode is good. There are some humorous scenes that makes episode enjoyable for every Sket Dan fan. Yet, the 2 story type episodes can be unequal with some folks loving the first part while some love the 2nd part. I say it's about equal to last week's episode where one part just didn't click with me.
Gallery
Please enjoy the images. For more images, please check out Ep. 67's gallery.
Meet the Otaku
Thanks
Thank you guys and gals for reading this weekly report. Please support the anime and the wiki editors who are working hard on the wiki project. The more you contribute, the better community would get.
Wiki Progress
Balthierfan: He created Code A: Chian's Counterattack with the overview, characters, merchandise, and trivia sections. Also, he created the Figure Doll Painting! (volume) page. He edited some grammar on wiki pages that Utipintar and I worked on. He updated several pages such as Braviera, The Archangel's Ballad, and Michiru Shinba.
Takashichea: I added anime/manga differences to episode 67. I updated several infoboxes from the Switch Off arc, Ogress Arc, Happy Birthday Arc, and other chapters. I updated the Kiri Kato and Hani Usami's page with new default images.
Utipintar: She created The Gallant Chronicle of the 3rd Years' Farewell Ceremony, Part 1 and Switch On (2) as well as completing it pages. She worked on Switch On (1) and Episode 67's summary. She added the category chapter to several chapter wiki pages. She added Kiri Kato and Hani Usami's images to the character wiki list.
Lynxian: She redesigned the table for the Weekly Shonen Jump wiki page and added all the dates.
RocketWobbufett: He suggested to add dates to the Weekly Shonen Jump page.