Welcome to the weekly Sket Dance report! I'm Taka, a member of Team W.I.K.I. Nation, and I'm proud to update you guys on the anime and my team's wiki progress. Last week's episode (May I Come Backstage?) was interesting because it explores Switch and Momoka's relationship. Plus, Switch is mute for the first time. This week, we get another episode dedicated to one story.
Plot
Shinzo gets Bossun hooked on cell phones when Bossun agrees to help him respond to the manager of a Sengoku fan website as Samurai. With each e-mail, Bossun (as Samurai - pen name) gets smitten by his pen pal, Pudding. Unaware of who is Pudding, Koma asks Hime to help her exchange e-mails with Samurai. Hime gets hooked on, too. When Switch realizes that Bossun and Hime are each other's pen pals, he pressures them to meet their pen pals.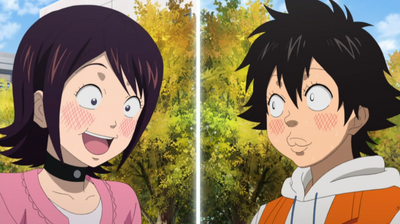 Will Bossun and Hime's date go well or not?
Verdict
Beware of spoilers!
Good
Bossun and Hime's reactions are hilarious such as when they get giddy and depressed with each e-mail. It reminds me of my friends and myself. It just shows how we get so addicted to our phones, and how we feel naked without them.
Don't underestimate Switch. He does these things to Bossun and Hime for his entertainment.
Bad
I find it a bit predictable how Hime and Bossun refuse to go out with each other.
Bizarre
Bossun shows his perverted side for the first time. His nostrils steamed when he thinks about Pudding's body. I thought he didn't like tsundere girls. Does he have a thing for megane (girls with glasses)?
Another first time, Hime dyes her hair black. I preferred her blonde, old self. It's interesting to see her with that color.
Overall, this episode is great and reveals the hysteria behind Hime and Bossun's relationship. They will keep teasing the fans who support Bossun X Hime.
Thanks
Thank you everyone for reading this weekly report. I hope you all continue to contribute to Sket Dance Wikia and making this community better. Please visit Awesome Switch's Badges page. He and the community are creating badges. Right now, we are making a lot of pairing badges like the one to the left.
Please give some recognition to the wiki editors who are working hard in this community.
Wiki Progress
Takashichea
Sket Dance Wikia
Ad blocker interference detected!
Wikia is a free-to-use site that makes money from advertising. We have a modified experience for viewers using ad blockers

Wikia is not accessible if you've made further modifications. Remove the custom ad blocker rule(s) and the page will load as expected.