Welcome to the weekly Sket Dance blog! I'm Taka of Team W.I.K.I. Nation reporting on the latest episode and wiki progress for Sket Dance. Last episode was all about Bossun, and this week's episode focuses on Momoka and Switch.
Plot
When Switch gets a ticket to Momoka's concert, his computer and laptop breaks leaving him speechless. Bossun, Hime, and everyone asks Switch why he has been going to Momoka's concerts; Reiko requests Switch to get Momoka's autograph.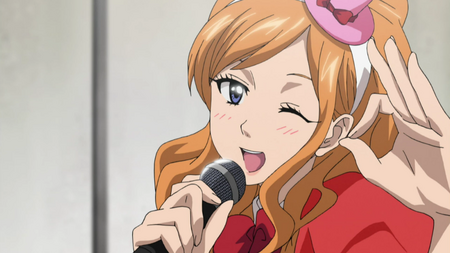 Will Switch get backstage with Momoka?
Verdict
Beware of spoilers!
Good
Despite that Switch has no laptop to communicate, he still makes the viewers laugh with his sketchbook.
Momoka and Switch had a great scene, and when Switch breaks the scene's tempo with the nice piano soundtrack, I expected that. In the end, Momoka has a devoted fan who always support her, Switch's Sketchbook. It's a lovely ending.
Bad
As much I want Switch to express some emotions, he cannot due to his tragic past. He doesn't speak, but at least, he should smile!
Bizarre
I have been debating why Switch is going to see Momoka in her concerts just to show his support. I feel there is something more in Switch's intentions, and Momoka is pretty curious as well.
Overall, this is another great episode that focuses on another pair of characters and their relationships, Switch and Momoka. Plus, the Biscuit Dance is a nice change which is refreshing to the normal two story episodes we have been watching.
Thanks
Thank you for reading Sket Dance Wikia's weekly report, and please give some recognition to the wiki editors who are working hard in this community while balancing their school and family life.
Wiki Progress
Takashichea: I have been making Episode screenshot pages and help from Fairy Tail Wikia's members, Tutles and Omega Natsu2, to make them work. Also, I was working on chapter 98's summary and Ep. 55 to add more anime/manga differences.
Utipintar: She worked on Ep. 56's summary, cast & credits, and anime/manga differences and created chapter Travel Troubles (4).
Awesome Switch: Awesome Switch created new manga pages: 111 and 110]. Though, I had to fix his template boxes.
Anonymous: Worked on Momoka's relationship with Switch.
Takashichea

Sket Dance Wikia and Team W.I.K.I. Nation
Ad blocker interference detected!
Wikia is a free-to-use site that makes money from advertising. We have a modified experience for viewers using ad blockers

Wikia is not accessible if you've made further modifications. Remove the custom ad blocker rule(s) and the page will load as expected.