Welcome to the weekly Sket Dance report! I'm Taka, a wiki editor who loves working at Sket Dance Wikia. Last week's episode is fairy interesting because we got a new character, Koma, who have communication problems and goes berserk whenever she gets embarrassed, and the Sket Dan had another romance request.
In this episode (54: Get the Fortune Teller!), it's a full story involving Reiko and a certain fortuneteller.
Plot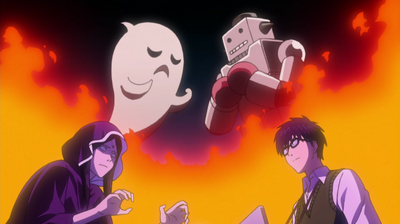 When Hime and the others go to Reiko to get their fortune read, they find out that Reiko's methods are a scam due to Himiko Minakami's teachings. Switch and the Sket Dan crew challenge Himiko Minakami to a showdown where they will attempt to prove that her fortune telling is a scam in front of her followers.
Can Switch and the others defeat Himiko Minakami at her own game?
Verdict
Beware of spoilers!
Good
Switch and Reiko have another lovely story in this episode, and the last time was the Otaku and Occult. It's good to see their rivalry again.
Shinzo tries to hit on Saaya and Kumi. I don't know if he was following samurai conduct in his romance quest.
Sasuke's surprise is excellent. I looked at his eyes and thought it was strange. It's great to see the twins tackling another job together. I can't believe he didn't understand Switch's rivalry with Reiko. After all, he and Bossun are in the same boat.
Bad
There is nothing bad to report. I haven't read the manga to see which adaptation did the story better.
Bizarre
Emphasis on Saaya: It's strange to see Saaya in this episode and how she claims she doesn't have anyone in mind she likes.
Cellphone addict: Shinzo is too attached to his smart phone. Despite the samurai's frugal way of living, he is such a contradiction. That's the quirkiness behind him.
Switch's personality: Switch is serious in this episode when you usually see him doing silly things throughout the series.
Overall, this episode is great and a good change in flow of the normal stories we are treated. There a lot of two story style episodes. It's nice to see a change and a whole episode showcasing another interesting pair, Reiko and Switch. Plus, Switch takes the serious role in this episode instead of the silly personality. This makes the episode stand out.
Thanks
Thank you for reading Sket Dance Wikia's weekly report. Please give some recognition to the wiki editors who are working hard in this community.
Wiki Progress
We had a lot of wiki editors this week. This is awesome!
Takashichea
Sket Dance Wikia and Anime Vice's Team W.I.K.I. Nation
Ad blocker interference detected!
Wikia is a free-to-use site that makes money from advertising. We have a modified experience for viewers using ad blockers

Wikia is not accessible if you've made further modifications. Remove the custom ad blocker rule(s) and the page will load as expected.