Overview
Welcome to the weekly Sket Dance report! I'm Taka, a regular wiki editor here at Sket Dance Wikia and Anime Vice. Last week's episode was fun to watch, and it had a wonderful ending where Bossun and Sasuke are warming up to each other as brothers.
Note: Most of the links are on Sket Dance Wikia to promote the wiki pages. Other terms that do not exist on this wikia will link to Anime Vice's wiki pages. Don't forget to check out last week's report!
Plot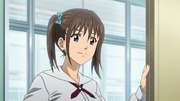 Bossun plays
Switch
's Sim game on the DSP and gets frustrated over the
Tsundere
girl. The gang gets a visit from
Saaya
who acts just like that Tsundere girl from the video game. Saaya requests the
Sket Dan
to help her get rid of her Tsundere personality. Bossun comes up with a solution to allow Saaya to hang out with them. Later on, Saaya has the Sket Dan and
Chiaki
rescue an owl they named
Hōsuke
. They take care of the owl, so it can go back to the wild on its own.
Can Saaya get rid of her Tsundere personality and will Hōsuke get back home?
Verdict
Beware of spoilers!
Good
Bossun's demonstration of a typical Tsundere girl is spot on. His acting made me laugh because it's so true.
Hosuke is a cute owl. I love how Switch frightens them with his facts, and then, Hosuke is surprisingly tame which makes Switch statement go down.
Another tsundere in this episode, Sasuke, gets tease by his fellow students. It's a great scene.
Bad
For those who don't like fan service or feel that Sket Dance doesn't need it, Saaya's Gainax Bounce would be a turn off. It's happened twice in the series with Mimori doing it in episode 23 where Hime and the girls became so small and cute.
This episode trumps its manga counterpart's story by making them cohesive.
Bizarre
It's interesting to see how Saaya gets smitten with the oblivious Bossun. Looks like Hime has competition for fans who believe in Bossun x Hime.
Chiaki is wearing her golden lion brooch from the Genesis episode. It looks good on her.
Hosuke and the Sket Dance logo are similar because the Sket Dan logo resembles an owl. You know Hosuke could be Sket Dan's new mascot.
Overall, this episode is excellent and a good start to the second year of Sket Dance. The ending credits looks beautiful with the cherry blossoms. Strangely, Saaya gets the spotlight in this one. It makes wonder if they will do that the same for Koma, a new character coming up in the next episode.
Best Image of the Week
I was debating to get a picture of Saaya with her brother or Saaya doing her Tsundere look (I didn't get a good shot of her).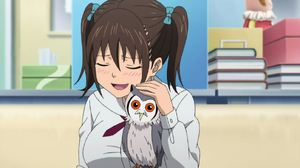 I chose this one in the end because this episode is about Saaya and her pet owl. It looks cute. What do you guys and gals feel is the best moment in this episode?
As soon as Lynxian finds the code for making gallery pages, I can transfer images that I uploaded from Anime Vice (Ep. 52) to here. I'm looking forward to it.
Thanks
I thank you guys for reading Sket Dance Wikia's report, and I thank Lynxian and my Team W.I.K.I. Nation teammates (Annabanana, KuroNekoXIII, Sora_thekey, Hibaru, HalberdierV2, and Piface314) for their supports.
If you love Sket Dance, please stop on by and contribute or drop a comment. Every bit helps the community. Right now, we have some new wiki editors, Utipintar and NarutoRevival. Please welcome them. This is great!
Wiki Progress
Lynxian: She created Hosuke page and did work on the music page. Lynxian added a fabulous synopsis for this episode.
Takashichea: I was adding anime/manga differences to episode 52, 49, and 51 and fixing the fickle "previous and next" links on the episode pages.
Utipintar: Utipintar was working on Koma's page.
Anonymous: I noticed some of them edited the song page's lyrics and other codes. One sharp wiki editor added an anime/manga difference point about Hime's clothes in ep. 51. That was awesome even though I missed it.
Takashichea
Sket Dance Wikia and Team W.I.K.I. Nation
Ad blocker interference detected!
Wikia is a free-to-use site that makes money from advertising. We have a modified experience for viewers using ad blockers

Wikia is not accessible if you've made further modifications. Remove the custom ad blocker rule(s) and the page will load as expected.