Overview
Welcome to the weekly Sket Dance report. Last episode was the end of a beautiful origin story about Bossun and Sasuke. Now, this week's episode is bit different.
Plot Summary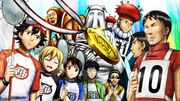 When
Yamanobe
receives an invitation to participate in the Genesis World Grand Prix in N'preenu Ch'p'p'sb, he asks the Sket Dan to show their pride and represent Japan. They enlist the help of
Chiaki
who go along for the ride in the name of sport and food.
Will the Sket Dan team win the tournament?
Verdict
Beware of spoilers!
Good
Even though Chiaki never got the formal training, it's funny she takes away Bossun's leadership role after becoming a pro after the montage. Bossun couldn't handle that which made it interesting.
Momoka sings in this episode. Despite it's short, it is awesome. Though, I have no idea why the camera focuses on chest and skirt areas.
The Wyoming team's scenes are pretty funny. The jargons are just plain silly. Chiaki ends up using it at the end.
Bad
Usually, I don't episodes with Yamanobe except for the Special Broken Mariko episode. The montage is just poor and was not that funny. The final match is not that exciting. It makes the tournament felt fake to me.
Bizarre
Too much Moe: This anime has too much emphasis on Moe. To me, Chiaki is just Chiaki, a normal tomboy who loves sport and eating.
The golden lion brooch is a trap set by Prince Jenelope to find his future bride. What happens if the MVP is a guy?
Was this whole adventured planned by Switch? He is one who requested an invitation and Momoka to sing at the tournament.
Overall, this episode is not bad or great.
Eyecatcher of the Week
Chiaki is the spotlight in this episode. Rejoice Chiaki fans!
Thanks
I thank you guys and gals for reading Sket Dance Wikia's weekly reports. I thank my teammates Lynxian and Team W.I.K.I. Nation (Anime Vice) for their hard work and support. I feel blessed to work with such awesome and kind teammates.
Wiki Progress:
Lynxian: She has been fixing infoboxes of several chapters, added music, added books, and updated pages. Lynxian did a beautiful summary on episode 50, Your Wish is My Command, Master, and episode 49, Genesis World Grand Prix.
Takashichea: I been creating manga chapters for the existing anime episodes we have currently. I will add their summaries. So far, I finished chapter 94 and episode 31, Samurai and Clothing.
Anonymous: A generous person added trivia to Akane Fujisaki's page about her crush on Ryosuke.
Takashichea
Sket Dance Wikia and Team W.I.K.I. Nation
Ad blocker interference detected!
Wikia is a free-to-use site that makes money from advertising. We have a modified experience for viewers using ad blockers

Wikia is not accessible if you've made further modifications. Remove the custom ad blocker rule(s) and the page will load as expected.