Overview
Welcome to the Weekly Sket Dance report! I'm Taka, a fan and wiki editor of Sket Dance. Sorry for the late reports, school's being hectic as always. I'll keep on working on Sket Dance Wikia and Anime Vice's Sket Dance wiki pages with my teammates.
For this episode, we are going into another wonderful character origin story arc starring Bossun! The Sket Dan characters' pasts are very interesting and tear jerking as we learn how their past shaped who they are now.
Plot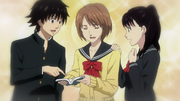 It starts with man who looks like Bossun, yet viewers find out that he is
Ryosuke
, Bossun's father. In the present, Bossun recalls finding old tapes and learns about his father. When
Akane
comes home, she finds Bossun watching the tapes, so she quickly locks them up. Desperate to know the truth, Bossun goes through the photo albums and finds something shocking. What did Bossun uncover about his father and Akane's secrets?
Verdict
Beware of Spoilers!
Good
At first, I thought Ryosuke was Bossun until I saw Akane and Haru calling him. It is such a nice surprise. Ryosuke and Akane's relationship is interesting as they go through many lucky yet strange events to get Ryosuke's camcorder.
Bossun's a sharp guy. It just took one look at his mother's photo before he gives up to realize that Akane is not his mother.
I love Bossun and Rumi's little sibling fight. Ah Rumi.
Bad
Bizarre/Points of Interest
Sket Dance still adds some references to other shows. Look at the Ultimate Muscle doll.
Cruel Twist of Fate: Ryosuke and Haru died on the same day in different car accidents. Fate is pretty strong and cruel in Bossun's story unlike Switch and Hime's stories.
Geo (Sora_thekey)'s Comment: "Switch and Hime's origin stories were both about mistakes they made that drove them to a very bitter stage of their lives. Here, Bossun is the same character we now see, until he finds out something about his adoptive mother's past that drives him to a similar somber place."
It's interesting that the anime has placed the events where greater detail is given on Ryosuke and Haru's death in the next episode.
Overall, the episode is excellent with the right balance between humor and drama, and the tension is starting to escalate for Bossun who feels alone in the world.
Picture of the Week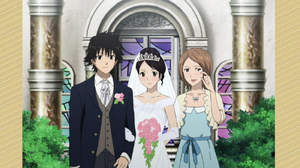 I chose this image because it's one of most memorable scenes. Plus, photos are treasured memories. Weddings, birthdays, and childbirths are one of those happiest days in people's lives.
Quotes
Ryosuke: "My roots here are really weak, you know? I ain't got any relatives. I'm not gonna say this is the only reason, but I just kind of wanted to leave something about me behind. Something that shows people me, enjoying life!"
Thanks
Thank you everyone for reading Sket Dance Wikia's report. I thank my teammate, Lynxian, for doing a great job on the Sket Dance wiki pages and my team, W.I.K.I. Nation, at Anime Vice for doing an excellent job as well.
Wiki Progress
Lynxian: She has been working on the characters and updating their sections with images and details. Her works include Taisuke, Sasuke, Bossun, Akane, Ryosuke, and Haru.
Both Lynxian and I work on the Happy Birthday anime episodes.
Others/Anonymous: I noticed a lot of people working on character pages such as Momoka.
Takashichea
Sket Dance Wikia and Anime Vice's Team W.I.K.I. Nation
Ad blocker interference detected!
Wikia is a free-to-use site that makes money from advertising. We have a modified experience for viewers using ad blockers

Wikia is not accessible if you've made further modifications. Remove the custom ad blocker rule(s) and the page will load as expected.