Overview
Welcome to the Weekly Sket Dance report! I'm Taka, your average wiki editor who is part of Anime Vice's team: W.I.K.I. Nation andLynxian's teammate at Sket Dance Wikia. Last week's episode was great because the fans get to see Roman and Momoka. This episode has the spotlight on Hime. Rejoice Hime fans! Your lovable tomboy has got herself trouble again. Doesn't Sket Dance always get into trouble?
Plot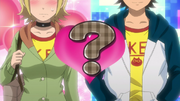 When Hime saves
Jin
from some thugs, Jin believes Hime is his dream girl that the fortune teller has predicted. To Hime's dismay, she has to prove to Jin that
Bossun
is her boyfriend in order to get Jin away. She has to take Bossun out to a date. Will Hime succeed?
Veridict
Beware of Spoilers!
Good
The date in this episode is really hysterical as Hime tries to convince Jin that she and Bossun are a couple. How Hime mess up reflects her tough exterior.
The ending to this episode is great as Hime and the gang go off to the amusement park.
Bad
This episode is great. I don't have much bad stuff to report. I did notice some inconsistencies with Hime's body (her breasts) when she hits the thugs and Jin. Yet, there are scenes shows a lot of deformed, cartoony characters. I don't mind Hime's looks as long as she looks pretty.
Bizarre
Switch

can type with his feet, and he makes a musical note during his plan with Hime. Also, Switch's chibi scene is cute.
Hime reminds of Aoi Kunieda of Beelzebub. Both girls are tough girls, blush a lot, and have a relationship with the main male protagonist that could develop into to love.
Bossun's impression of a cute girl is pretty good. Bossun's good at drawing, figuring mysteries, and now, impersonations.
Overall, this episode gets five out of five. It's wonderful, hysterical, and shows how teenagers can get so silly about their friends and love interests. It's definitely a relatable episode to most of us.
Best Pics of the Week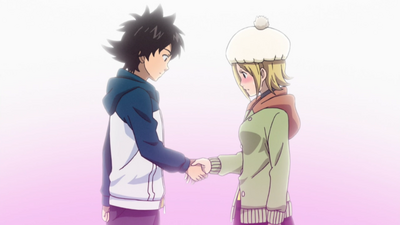 Bossun and Hime holding hands!
The first one is the best while the second one only shows Bossun's face. A little note, I try to be neutral about the pairings in anime. I find Bossun and Hime's relationship, suspicious. Bossun is your typical oblivious to love shonen boy like Goku of Dragon Ball and Luffy of One Piece, and Hime has questionable feelings for Bossun that swings back and forth between love and just being friends.
Regardless, I love Bossun and Hime's relationship.
*I have to ask Lynxian on how to center and make the image big. I fix this for you guys. Thanks!
Thanks
I thank you guys for reading Sket Dance Wikia's Weekly Reports, and I apologize for a late report due to being a fulltime student. I'll keep doing wiki editing and weekly reports for both of my favorite communities.
I thank Lynxian for being awesome and helpful when she told how to do stacked images. I have to ask her how to center a large image for the best Pic of the Week section. Oh boy, what'll will I do without her. Please support Lynxian and Sket Dance Wikia.
Wiki Progress: So far, I have been adding chapter wiki pages. Right now, all chapters up to volume 8 has been added. I will add summmaries as soon as I read the chapters. I'm more of a Anime first then watch manga type of guy.
Last week, Lynxian was doing the template code. She made the infoboxes of the chapter and episode pages look nice. She also created several wiki pages and added nice images for the episodes. Also, I seen two new wiki editors. Things are looking good.
Here's a copy of the weekly report at Anime Vice. It has been modified to address its wiki work and teammates.
Takashichea
Sket Dance Wikia's Wiki Editor and Team W.I.K.I. Nation
Ad blocker interference detected!
Wikia is a free-to-use site that makes money from advertising. We have a modified experience for viewers using ad blockers

Wikia is not accessible if you've made further modifications. Remove the custom ad blocker rule(s) and the page will load as expected.