Overview
Hi everyone! I'm Taka, a wiki editor on Sket Dance Wikia. Today's episode report covers two fantastic stories about Momoka and Roman. At the end of report, I'll give a status report on the wiki progress for Sket Dance Wikia.
Plot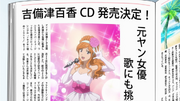 The first one is about Momoka who asks her friends to help her gain a deeper insight into a script for her audition in a play. The second story begins with
Hime
wondering what career she would have in the future, and when
Switch brings
up Roman, Roman appears and brings good news. She has made her first debut as a manga artist.
Will Momoka understand the meaning behind the script, will Hime know what she would become in the future, and did Roman really made her debut as a manga artist?
Find out by watching Sket Dance.
Verdict
Beware of spoilers!
Good
Bossun and Momoka's acting scenes ends so randomly. Out of nowhere, Bossun hands Momoka, an Anthony action figure.
Bakuman Reference: Roman just makes me laugh hard when I made the connection. Will she and Segawa Fumi make their anime debut? I think so since the judges showcased Roman's work, Sudden Temptation.
After Bossun and Momoka make Japanese words sound like English words, Bossun ends it with Shinji running away. See this pun, Shinjirarenai (Unbelievable) sounds like Shinji run away.
Bad
There's not much bad things in Momoka's story. However, Roman's second story seems like her other story where she shows off her nonsensical story for the first time. Not to hurt the Roman fans, but the humor seems stale. No offense though. Roman should show off more herself instead her silly manga story. She is one of the funniest girls in the series. I loved her alien call, her rivalry with Switch at drawing Bossun, and her drive to please Bossun, her "prince."
Bizarre
Roman's "Tee Hee" and sound effects are bizarre, but it suits Roman. Her alien call is the best I find her crying scene cute. Not to sound weird, okay guys.
Why is Momoka's singing "Nervous" so catchy? It didn't stick with me.
I smell another pairing. I still love the bear hug Bossun gave to Momoka.
Momoka's luck streak in her career is unbelieving lucky. She is a delinquent whose performance in the puppet episode got her career in voicing anime characters. She's a pop idol, and now she's an actress. Sket Dance really likes pop idol culture. The most obsessed guys who love anime and pop idols are Otakura and Switch, of course.
Overall, I find this episode enjoyable and give it a four out of five. Momoka's story is better than Roman in terms of humor. Roman just needs to show off more of her quirky personality and less of her craptastic drawings. I would like to see Switch, Sasuke, and Roman participating in a crappy drawing show off. I mean artist showoff contest. Plus, I haven't seen much of Roman's Otome filter.
Thanks
Thank you guys for reading the Sket Dance Wikia report. I thank Lynxian for helping me adjust to the wikia since I came from Anime Vice and for helping with the template codes. I had trouble with the infoboxes. She rocks!
Wiki Progress
Lynxian and I added a lot of chapters in past week, so we have all the chapters created up to volume 7 (OGRESS). All episodes have their infoboxes and images up to 43.
Please if you love Sket Dance, come and contribute to the wiki pages, add some images or start up a blog. It'll make the site better.
Thank you.
Takashichea
'Sket Dance Wiki Editor and' Team W.I.K.I. Nation of Anime Vice
Ad blocker interference detected!
Wikia is a free-to-use site that makes money from advertising. We have a modified experience for viewers using ad blockers

Wikia is not accessible if you've made further modifications. Remove the custom ad blocker rule(s) and the page will load as expected.