Hello Sket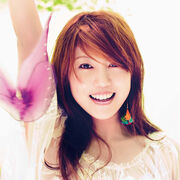 Dance Wikia Community! Though, it's a bit of a late news, but I just have to announced it.
Ryoko Shiraishi married on September 6, 2012 before she turned 30 which is on September 7.
On her blog, she said this:
"I want to get married before I'm 30-years-old… To those who worried and made a joke about my dream, are you relieved now? Lol. Have I surprised you? I almost gave up on it. I didn't know it would come true. I'm the most surprised! Since it was a rapid development."

Here are some sketches by two mangaka who congratulate Ryoko on her marriage.
The image on the right is drawn by [Karino Takatsu] (author of Wagnaria!!).
This comic strip is drawn by Takashi Shiina (author of Zettai Karen Children). The character Aoi (voiced by Ryoko) congratulates her seiyuu and breaks into tears when she wonders if she and Ryoko can be together.
Characters that Ryoko Voices
I'm going to list a few major characters since she did so many. For the full list, check out her page at Anime News Network.
Sources
Ad blocker interference detected!
Wikia is a free-to-use site that makes money from advertising. We have a modified experience for viewers using ad blockers

Wikia is not accessible if you've made further modifications. Remove the custom ad blocker rule(s) and the page will load as expected.