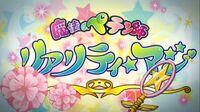 Magical Swindler: Reality☆Maji
(魔法のペテン師 リアリティ☆マジ,
Mahō no petenshi riaritei maji
) is a magical-girl anime with an ordinary good versus evil storyline and plenty of battle scenes. Though the series takes place in a fantasy setting, the situations are handled in a down-to-earth manner to present a realistic world view to children watching.
Characters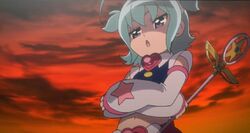 Reality Maji (リアリティ☆マジ) is the protagonist of the series. Her three weapons are her genius swindling ability, magic, and her cynical stick. When she defeats a villain, she demands money from them. A sadist, her catchphrase is "will you see stars when I bury you in the ground?" (土に埋まって星を見る?, Tsuchi ni umatte hoshi o miru?). In the character popularity poll, she placed 27th with 43 votes. She is voiced by Ayane Sakura in the anime.
Merchandise
Trivia
Ad blocker interference detected!
Wikia is a free-to-use site that makes money from advertising. We have a modified experience for viewers using ad blockers

Wikia is not accessible if you've made further modifications. Remove the custom ad blocker rule(s) and the page will load as expected.