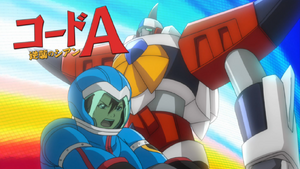 Code A: Chian's Counterattack is a popular Mecha Anime franchise described as a 'surprisingly' orthodox Mecha series with a deep plot focusing on Chian's real life as well as Mecha battles.
Known Characters
Chian - Main Character and Mecha Pilot
CATHERINE - a prototype 'EBYN Mass Produced Combat Gear' (only ever had one line)
Purple and Artemis - Chian's Sisters
EBYN Corporation
The Allied Forces
The Anstar Corporation
Siegfried
Merchandise
Various Models of the Mecha

A Known Rare Model is the 'Shiny Thunder' Model

Data Handbooks and Artbooks on the series have been published
Trivia
Speculations: The show can be a parody of many anime shows that specializes in mecha such as Code Geass: Lelouch's Rebellion, Aquarion Evol, and Gundam.
Ad blocker interference detected!
Wikia is a free-to-use site that makes money from advertising. We have a modified experience for viewers using ad blockers

Wikia is not accessible if you've made further modifications. Remove the custom ad blocker rule(s) and the page will load as expected.